Student dormitory
About the use of the student dormitory.

We provide dormitories near TCC for students.

This housing is available to all students at a reasonable fee by request.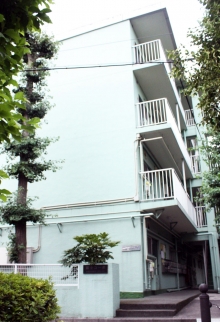 Capacity

About 100 students. (6 places)
Each room is for two persons. (There are a few rooms for one person or three persons according to circumstance.)
Location

Within walking distance from the school.
Rental Fees

28,000yen ~ 38,000yen per month
plus 500yen(Service charge per month) Water, lighting & heating and gas expenses are excluded.
Furnishing
A refrigerator, a table, a small shelf, air-conditioner, kitchen, toilet, and bath and Wifi
*No bedding, Students can have one set of HUTON on their own expenses if they want. (One set costs approximately 10,000yen)

Initial Expenditure
Regular course

For enrollment 20,000yen
Deposit one month rental fee
First month rental fee
(e.g; in case of 35,000 yen room, student needs 90,000 yen and 500 yen(one month service charge) in the initial expenditure, and pays 35,000 yen and water, lighting & heating and gas expenses a month from the next month)
Short Course
For enrollment 10,000 yen
First month rental fee
(e.g; in case of 35,000 yen room, student needs 45,500 yen in the initial expenditure, and pays 35,000 yen and water, lighting & heating and gas expenses a month and 500 yen service charge from the next month)
Requirements for rent
Notes :
≪Regular course≫
Regular course student should stay for more than three months.
Deposit will be refund with the announcement of one month ahead of leaving time.
*Deposit will not be returned when suddenly moving.
≪Short course≫
Short course students may be impossible to get the room when there is no vacancy.
When shortcourse students extend the stay to more than 3 months, Enrollment fee will be charged 30,000yen same as regular course students.
≪Common≫
There is no choice of the room allowed.
After being settled, if there is a vacancy, students have a chance to request another room.
*When hoping to stay with a Japanese family(Home stay program), please inquire .

It is externals of the dormitory and one example of the room. (Besides this, there are various rooms. )