Student dormitory
About the use of the student dormitory.

We provide dormitories near TCC for students.

This housing is available to all students at a reasonable fee by request.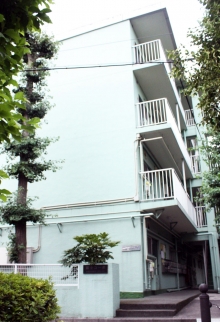 Capacity

About 130 students. (13 places)
Each room is for two persons. (There are a few rooms for one person or three persons according to circumstance.)
Location

Within walking distance from the school.
Rental Fees

26,000yen ~ 37,000yen per month
Water, lighting & heating and gas expenses are excluded.
Furnishing
A refrigerator, a table, a small shelf, TV, air-conditioner, kitchen, toilet, and bath.
*No bedding, Students can have one set of HUTON on their own expenses if they want. (One set costs approximately 10,000yen)
*Free Wi-Fi in 80% dormitory rooms. Free Wi-Fi in the school.
Initial Expenditure
Regular course

For enrollment 20,000yen
Deposit one month rental fee
First month rental fee
(e.g; in case of 35,000 yen room, student needs 90,000 yen in the initial expenditure, and pays 35,000 yen and water, lighting & heating and gas expenses a month from the next month)
Short Course
For enrollment 10,000 yen
First month rental fee
(e.g; in case of 35,000 yen room, student needs 45,000 yen in the initial expenditure, and pays 35,000 yen and water, lighting & heating and gas expenses a month from the next month)
Requirements for rent
Notes :
≪Regular course≫
Regular course student should stay for more than three months.
Deposit will be refund with the announcement of one month ahead of leaving time.
*Deposit will not be returned when suddenly moving.
≪Short course≫
Short course students may be impossible to get the room when there is no vacancy.
When shortcourse students extend the stay to more than 3 months, Enrollment fee will be charged 30,000yen same as regular course students.
≪Common≫
There is no choice of the room allowed.
After being settled, if there is a vacancy, students have a chance to request another room.
*When hoping to stay with a Japanese family(Home stay program), please inquire .

It is externals of the dormitory and one example of the room. (Besides this, there are various rooms. )